I Have Found Jesus.
So I actually bought one or two of the Narnia figures. Why? Because they are the one, single, most funny thing about the Narnia film.
Why are they funny? Because of what they represent. There are many of them, there's an Aslan one, a centaur one, and a minotaur one, among others. I bought these three, because I like fantasy creatures, and I didn't have a minotaur or a centaur in my collection. Anyway. We all know, that Aslan is Jesus. Aslan is Jesus, in another world, where he takes the form of a lion, instead of a human. And what has Hasbro Toys Company gone and done? They've taken Jesus, and turned him into an action figure. And not just any action figure. When you pull his claw, Jesus bites! Oh yes. I have, you will be pleased to know, found Jesus. He is on my shelf.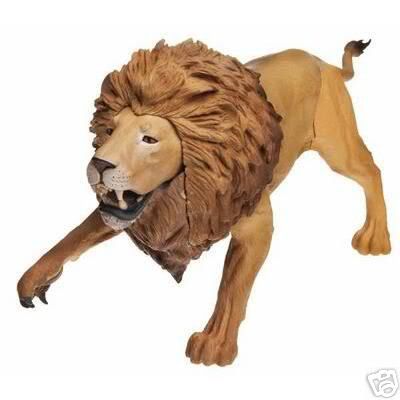 Slashing action Jesus! Take him home with you today.
Moses coming soon.