Werewolves are real.
Werewolves are real. Here are a few small reasons as to why.
There are several reasons why I think that werewolves, or, something akin to our perception of werewolves, exist. I have many theories, but I can't be arsed to write them all down.
First argument: The myth of the werewolf, exists in so, so many cultures. And I mean, there have been legends of people who turn into wolves in all sorts of countries, all over the world. England, France, Greece, etc. They all have different names. Now consider the fact that, in the ages such as, I don't know, the 1500s or whatever, these countries are not going to have any means of communication. No phones, no TV, no postal service, etc. So it can not be a conspiracy, and they did not copy each other. Yet the legend of the werewolf pops up, in almost identical variations, across the globe. Before we had communication. This suggests to me, that there is something tangible to the werewolf legend. There just
has
to be something to it, for the same creature to pop up, over and over in countries that had absolutely no contact with each other.
In France, it was called the Loup Garou. In England, it was called the werewolf. In Greece, it was called the Lycanthropos, named after the Greek god Lycaeon. In Italy, it was called the Luparo Mannaro. In Sweden it was called the Varulv. In Russia it was called the Vurdulak. I could go on, with more countries. The point is, all these countries, so far away from each other, with no communication, all have exactly the same legend. This says to me that werewolves exist. It's one of the strongest arguments.
I also had some theories as to how they could physically exist, which involved advanced mutation, sped up with a catalyst or adrenaline of some sort. If a caterpillar can turn into a butterfly, why can't one mammal turn into another? There are stranger things in this world than the idea of werewolves. Truth. I don't want to go into the more scientific explanations though, they are boring. Plus I am crap at science, and proud.
Now consider the fact, that werewolves do kind of exist. Lycanthropy is a real disease. As far as I know, it became most well known in the middle ages. Lycanthropy is a disease that causes the sufferer to lose their human mind and resort to the instincts of a beast. You may have seen the woodcuts depicting the results. Graphic images of men on their hands and knees, with babies in their mouths, feasting on human flesh with their hands curled into paws. Real disease. It was caused by bread, actually. Bread that (as far as I can remember) went mouldy, and this caused some reaction in the wheat, which caused lycanthropy. Look: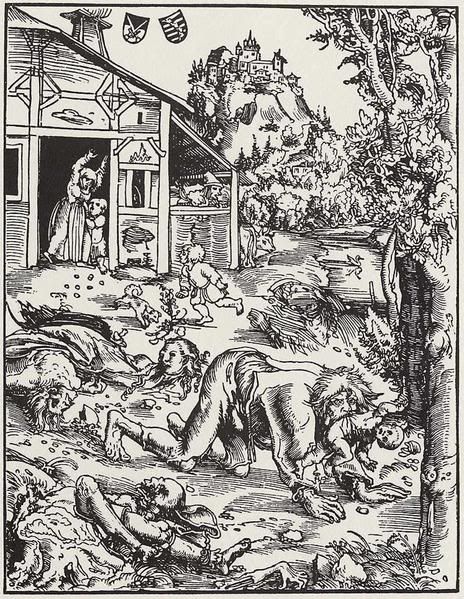 Did you know that the full moon has an effect on human beings? It's true. Not massive, not extremely noticeable, but there none the less. Things like, an increase in human blood pressure, and heart rate. I have not really found the explanation for this, all I know is that it happens. There are more murders commited under the full moon, than under any other stage of the moon. The moon has also been said to cause madness. It explains the origin of the word 'Lunatic'. <--see the 'luna' in the word?
With regards to the living on raw flesh, supernatural strength, and possibly a delayed ageing process, all these things are entirely possible with the aid of things such as drugs, adrenaline, and even being born with abnormalities. It's just in olden times, it would be less obvious how these things would have been achieved, and therefore, there was much more of a sense of magic about them. Eg: In the 1500s, if someone saw a man bending a tree in half with his bare hands, they would have screamed "Werewolf!" but nowadays, they would assume he was on steroids, or on an extrme adrenaline rush as a result of fear or desparation or something. Point is, inhuman physical strength is entirely possible.
Take the facts that, the myth of the werewolf is all over the world, despite the lack of communication at the time. The fact that, animals in the natural kingdom do shift their shape. Bugs, granted, but still. And the fact that stranger things exist than werewolves. Like the fact that U2 are still going. Still going! The fact that lycanthropy, losing your mind and becoming a beast, is a real disease, and finally, the fact that the full moon has a definate effect on the human body, and I think that we are on to something.
I'm going to stop talking now before I write an essay. I also have theories on why vampires could physically exist too. To be honest, they are more likely to exist than werewolves. It is physically possibly for vampires to exist.
But I love the werewolves.
There are some people out there who claim to be werewolves. Some are nutters. No, almost all are nutters and wannabes. Furrywannabes, is a term I am fond of. (All you alleged therians can sod right off, most of you fall into the category) But, there is one man called Gypsy whose story intrigues me very much. I think he might be, well, something. I don't know what. But something.
Werewolves are many other things too, besides a definite myth, and a possible reality. They are metaphors in films and literature for many things. Human functions and desires and fears, among other things. Werewolves can represent so many things. I wrote an essay for English about how werewolves are metaphors for male sexual desire, across several films, several books, and several fairy tales. Most fun essay I have ever written, I went about 500 words over the 2500 word limit and spent about a day cutting stuff out...
So werewolves do exist. Whether they, to you, are a metaphor, a myth, or a reality, something in between, or all three, is entirely up to you and your perspective.